AG Hair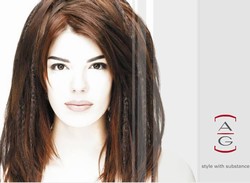 AG hair care...hair products line from Canada,
Fashions come and go - but style is timeless. Nothing says more about your sense of style than your hair - the cut, the colour, the texture, the shine, all add up to the ultimate style accessory. And nothing enhances your ultimate accessory better than AG Hair Cosmetics.
At AG we are dedicated to providing the ultimate in style through the performance of our unique product range. We use only the finest, most advanced ingredients such as soothing Botanicals, Panthenol for body, Silk for strength and shine and Wheat for moisture, to provide the building blocks for healthy, shiny hair deep inside the hair cortex. We believe that by building strength and condition deep on the inside we provide a healthier, stronger foundation for our products to work on the outside. The better the foundation the better the results: Better texture, better volume, better shine.
AG Hair Cosmetics and a talented stylist are a powerful combination - You deliver the ultimate in style - We get the highest satisfaction rate in the industry.
Colour Savour Conditioner     6 fl oz <!br> - Other sizes/options. <!/span><!br>


Save your color while experiencing the unbelievable detangling power of Color Savour conditioner. Richly infused with protein and AGs CARE Complex, Color Savour eliminates color-destroying free radicals. Protecting and prolonging the vibrancy of your color, leaving hair conditioned and silky smooth.

$25.18
Free Shipping*

Conditioner Light     6 oz. <!br> - Other sizes/options. <!/span><!br>


Conditioner Light daily conditioner Daily use, low pH formula seals the cuticle to lock in moisture. A light repair treatment and detangler that won't weigh down the hair. pH 3.5-4.0

$16.00
Free Shipping*

Conditioning Mist     8 oz. <!br> - Other sizes/options. <!/span><!br>


Conditioning Mist detangling conditioner Ultralight leave-in conditioner detangles, moisturizes and protects without weighing down the hair. pH 4.5-5.5

$16.00
Free Shipping*


Fast Food     33.8oz <!br> <!/span><!br>


Fast Food leave on condition Nourishes and detangles dry, lifeless hair. Ultralight formula helps prevent split ends, adds moisture, shine and vitality. Leave in for lasting protection

$40.00

Fast Food conditioner     6 oz <!br> <!/span><!br>


Fast Food leave on condition Nourishes and detangles dry, lifeless hair. Ultralight formula helps prevent split ends, adds moisture, shine and vitality. Leave in for lasting protection

$25.18
Free Shipping*

Re Coil Curl Activating Conditioner     6 fl. oz. <!br> - Other sizes/options. <!/span><!br>


Activate and moisturize curls with this rich conditioner, infused with AGs C3* curl-creating complex. Re:coil conditioners rich formula smooths every curl while instantly detangling hair from the roots to the ends.

$22.78
Free Shipping*

Re Coil Curl Activating Conditioner     33.8 fl. oz. <!br> - Other sizes/options. <!/span><!br>


Activate and moisturize curls with this rich conditioner, infused with AGs C3* curl-creating complex. Re:coil conditioners rich formula smooths every curl while instantly detangling hair from the roots to the ends.

$50.00

Sterling Silver Toning Conditioner     6 fl. oz. <!br> - Other sizes/options. <!/span><!br>


Sterling Silver Toning Conditioner - A highly effective daily conditioner to detangle and moisturize while polishing undesireable brassiness and coppery tones from blonde, highlighted and silver hair.

$16.00
Free Shipping*

Sterling Silver Toning Conditioner     33.8 fl. oz. <!br> - Other sizes/options. <!/span><!br>


Sterling Silver Toning Conditioner - A highly effective daily conditioner to detangle and moisturize while polishing undesireable brassiness and coppery tones from blonde, highlighted and silver hair.

$40.00

Thikk Rinse Volumizing Conditioner     6 oz. <!br> <!/span><!br>


Builds long lasting volume and body while improving condition and shine to fine limp hair. A unique volumizing formula plumps up hair fibres to maintain fullness. pH 4.5-5.5

$15.00
Free Shipping*

Ultramoist     6 oz. <!br> - Other sizes/options. <!/span><!br>


Ultramoist moisture treatment Richly formulated to enable dry flyaway hair to accept and retain moisture. Leaves the hair feeling silky smooth with renewed vitality and shine. pH 4.5-5.5

$16.00
Free Shipping*

Mousse Gel     10 oz <!br> <!/span><!br>


mousse gel extra-firm Imparts lightweight, extra-firm curl retention, superior curl definition, and long lasting shine. Recommended for encouraging and holding shiny curls, texturized styles, wet looks and scrunching.

$19.00
Free Shipping*

Split End Spa Repair Serum     1.69 fl. oz. <!br> <!/span><!br>


This ultra-light serum instantly conditions and repairs split ends while significantly protecting hair colour.&ampnbsp Ideal for creating luxurious, silky smooth, soft hair and long-lasting blowouts.

$26.00
Free Shipping*

Colour Savour Shampoo     8 fl oz <!br> - Other sizes/options. <!/span><!br>


Save your color while experiencing the luscious lather of AGs Colour Savour Sulfate-Free Shampoo. Infused with AGs CARE Complex, Colour Savour gently cleanses while stimulating color-destroying free radicals, protecting and prolonging your hair colors vibrancy.

$22.00
Free Shipping*

Colour Savour Shampoo     33.8 Fl. Oz. <!br> - Other sizes/options. <!/span><!br>


Save your color while experiencing the luscious lather of AGs Colour Savour Sulfate-Free Shampoo. Infused with AGs CARE Complex, Colour Savour gently cleanses while stimulating color-destroying free radicals, protecting and prolonging your hair colors vibrancy.&nbsp

$50.00

Control Dandruff Shampoo     12 oz. <!br> <!/span><!br>


Control - dandruff shampoo Concentrated for maximum relief of itching, irritation and flaking associated with dandruff.

$24.00

Re Coil Curl Activating Shampoo     8 fl. oz. <!br> - Other sizes/options. <!/span><!br>


Activate and moisturize curls with this sulfate-free shampoo. Infused with AGs C3* curl-creating complex, this mild formula maximizes curl retention and controls frizz while helping create practically inconceivable curls or soft, casual waves. &ampAcirc&ampnbsp

$22.00
Free Shipping*

Re Coil Curl Activating Shampoo     33.8 fl. oz. <!br> - Other sizes/options. <!/span><!br>


Activate and moisturize curls with this sulfate-free shampoo. Infused with AGs C3* curl-creating complex, this mild formula maximizes curl retention and controls frizz while helping create practically inconceivable curls or soft, casual waves.

$50.00

Renew Clarifying Shampoo     8 oz. <!br> - Other sizes/options. <!/span><!br>


Renew - clarifying shampoo Removes discoloring and damaging chlorine, mineral deposits and dulling product buildup. Gentle colour-safe formula leaves hair shiny and manageable. pH 4.5-5.5

$12.00
Free Shipping*

Renew Clarifying Shampoo     33.8oz <!br> - Other sizes/options. <!/span><!br>


Renew - clarifying shampoo Removes discoloring and damaging chlorine, mineral deposits and dulling product buildup. Gentle colour-safe formula leaves hair shiny and manageable. pH 4.5-5.5

$25.00

Tech 1ne Normal Shampoo     8 oz <!br> <!/span><!br> This item is DISCONTINUED by the manufacturer.




A gentle daily use cleanser that balances moisture and adds body in all hair types. pH 4.5-5.5

$15.00
Free Shipping*

Tech 2wo Color Treatment Shampoo     8 oz. <!br> - Other sizes/options. <!/span><!br>


Tech-Two color treatment shampoo. Replensishes, strength, elasticity and shine by restoring protein and moisture depleted by colour, heat styling, sun and perms. pH 4.5-5

$12.00
Free Shipping*

XtraMoist Moisturizing Shampoo     8 fl. oz. <!br> - Other sizes/options. <!/span><!br>


XtraMoist - Gently cleanses, re-hydrates and restores moisture to depleted hair. Free of moisture depleting sodium chloride.

$14.00
Free Shipping*


XtraMoist Moisturizing Shampoo     33.8oz <!br> - Other sizes/options. <!/span><!br>


XtraMoist - Gently cleanses, re-hydrates and restores moisture to depleted hair. Free of moisture depleting sodium chloride.

$37.00

Curl Trigger Curl Defining Spray     5.oz <!br> <!/span><!br>


AG Hair Cosmetics Curl Trigger Curl Defining Spray helps create effortless windswept waves in minutes. This light hold styling spray is perfect for taming, defining and ehancing unruly waves and curls. Formulated to impart moisture, leaving curls shiny, bouncy and gorgeous. The easy-to-use trigger spray makes application simple and mess-free.

$22.00
Free Shipping*

Details     6 oz. <!br> <!/span><!br>


Details defining cream Lends soft hold, moisture, shine and definition to naturally curly or permed hair that is dry or coarse.

$18.00
Free Shipping*

Liquid Effects     8 oz. <!br> <!/span><!br>


Liquid Effects extra-firm styling lotion A lightweight, versatile styling lotion that provides extra firm hold, texture and curl definition.

$21.00
Free Shipping*

Set It Straight     5 oz. <!br> <!/span><!br>


Set It Straight straightener Smoothes and straightens naturally curly or permed hair while providing thermal protection, humidity resistance and outstanding frizz control.

$19.00
Free Shipping*

Styling Jel     6 oz. <!br> <!/span><!br>


Styling Jel firm An alcohol-free, water soluble, high shine, versatile jel that is excellent for blow drying, setting or sculpting all hair types. Will not build up or flake.

$18.00
Free Shipping*