Eve Taylor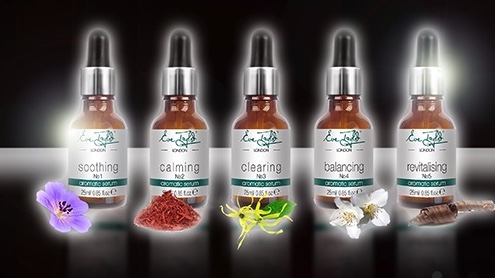 Eve Taylor Essential Skin Care Products
Eve Taylor is hailed by the worlds leading skin care therapists an e;the modern aromatherapy.e; Founder of The Institute of Clinical Aromatherapy in London, Eve Taylor has four decades experience delivering products that unite the best of plant essences with the future of skin care.

Synergistic blends deliver maximum treatment benefits.
Lightest carrier oils for maximum penetration, plus no greasy after feel.
Unsurpassed potency and highest grade oils from organically-grown plants. Completely natural, no insecticide or synthetics.
Guaranteed purity and photo-protective packaging to resist contamination.
The most respected professional aromatherapy oils in the world now sell themselves! With a whole new look, the Eve Taylor retail product line has never been easier to prescribe to your clients.

Click Here For A Short Tutorial Video On Eve Taylor

Hyaluronic Acid     30 ml <!br> <!/span><!br>


An ultra-light gel serum that rapidly absorbs into the skin to plump and hydrate the epidermis. Fine lines are eased as skin is rehydrated and skin texture is left soft and silky with no tacky after feel. Skin type/condition: All skin types and conditions, especially dehydrated skin, sensitive skin and moisture depleted ageing skin. Features & benefits: Plumps and hydrates the skin smoothing fine lines and softening wrinkles. Softens skin texture leaving skin silky smooth. Prevents trans-epidermal water loss (TEWL), more commonly known as dehydration. Key ingredients: Hyaluronic Acid (48% high molecular & 1% low molecular)- an non stimulating acid with no exfoliating properties whatsoever, it is found naturally within the dermis of the skin and is classed as a GAG/Glycosaminoglycan – the jelly like substance which supports collagen and elastin fibres and is a key component in the support structure of the skin. Hyaluronic Acid molecules have a large molecular size and are too big to sink down to the dermis, instead they are rapidly absorbed into the epidermal layers where it plumps up the cells softening fine lines and wrinkles leaving skin silky smooth. The hydration from the Hyaluronic Acid allows the moisture dependent enzymes to function to their full potential and naturally activate allowing cells to desquamate evenly from the skin. This process realigns the disorder of the skin cells which were shedding unevenly giving dehydration lines. Surface cells are saturated with hydration helping to close superficial cracks and fissures which allow irritants to enter the skin.

$97.00
Free Shipping*

Moisturising Day Cream (Age Resist Day Cream)     50 ml <!br> <!/span><!br>


Our best-selling moisturiser is packed with easily absorbed botanicals, essential oils and ceramides to offer intensive skin strengthening and maintain healthy barrier function. Solar protection defends against damaging ultra violet light, in turn reducing the signs of ageing. Skin type/condition: Ageing and pre-maturely ageing skin. Skin requiring revitalisation. Features & benefits: Perfect for use in the daytime, it nourishes the epidermis with essential fatty acids needed for healthy skin. Enriched with Vitamins A, D and E to protect the skin from free radicals during daylight hours. A synergy of essential oils are blended to help strengthen and regenerate the skin. SPF30 protection defends against damaging ultra violet light which leads to pre-mature skin ageing. Sunscreens: High Protection – SPF 30. Avobenzone, Octinoxate & Octocrylene: these organic/chemical based sunscreens works by absorbing Ultra Violet light, converting it to heat and dissipating it from the body. Key ingredients: Ceramides: are naturally occurring lipids found within the epidermis, making up over 50% of the skin's composition they play a vital role in defending the skin against environmental threats. Ceramides hold skin together and form a protective barrier, preventing trans epidermal water loss and reducing potential pathways for external aggressors to penetrate the skin. Rice Bran: abundant in Vitamin E, Linolic Acid, Olec Acid and Oryzanol, it nourishes and conditions dry skin whilst imparting brightening actions for a fresh, illuminated complexion. Sunflower Seed Oil: abundant in Linoleic Acid, Sunflower Oil deeply nourishes, calms irritation and treats fatty acid deficiency in the skin. Lavender, Rosewood, Rosemary, Clary Sage, Geranium, Galbanum and Patchouli: a synergistic blend of essential oils help strengthen the skin and offer revitalising properties to re-energise sluggish mature skin.

$70.00
Free Shipping*

Anti-Stress Massage and Bath Blend     120 ml <!br> <!/span><!br>


The light citrus aroma of Sweet Orange and Mandarin coupled with a fragrant hint of French Lavender create a soothing and relaxing effect to a tired mind and stressed body. The warm comforting aroma of Marjoram and the detoxinating benefits of Grapefruit cleanse and detox the body to encourage balanced energy flow. A fusion of Petitgrain and Ylang Ylang creates the finishing touch to leave the body replenished and the mind fortified. Skin type/condition: Suitable for all skin types. Especially beneficial for those experiencing physical or mental stress, anxiety, insomnia, muscle or joint discomfort or those in need of relaxation. Key ingredients Essential Oils: The synergistic blend of Mandarin, Orange, Lavender, Marjoram, Grapefruit, Petitgrain and Ylang Ylang collectively calm the mind, strengthen the nervous system and help to restore balance and harmony. Function Provides an excellent massage medium with calming, soothing oils for those in need of relaxation, may be added to bath water to create an aromatherapy bathing experince or added to Eve Taylor ® Spa Body Moisturiser for enhanced nourishing benefits. Homecare application For massage: Pump desired amount into hand and apply to body. Massage using firm flowing circular movements. For bath: Add 4-6 pumps into bath water. Relax in bath for 5-10 minutes and follow with normal cleansing routine. After bath pat skin dry and follow with application of recommended Eve Taylor ®Spa Body Moisturiser. For moisturiser: Add desired amount to recommended Eve Taylor ® Spa Body Moisturiser, blend together and apply to body in smooth upward movements.

$40.00
Free Shipping*

Detox Massage and Bath Blend     120 ml <!br> <!/span><!br>


The warming qualities of Cinnamon and Thyme encourage circulation to improve elimination of toxins and help in the reduction of fluid retention. The purifying effects of Juniper, Lemon aid the elimination process. Geranium and Fennel aid skin integrity revitalising skin texture. Skin type/condition: Suitable for those experiencing bloating, fluid retention, toxic, congested skin or cellulite. Key ingredients Essential Oils: The synergistic blend of Cinnamon, Grapefruit, Sweet Fennel, Juniper Berry, Geranium, Lemon, Cypress and Thyme collectively detoxify and tone helping combat cellulite type deposits. Function Provides an excellent massage medium with detoxifying oils for those in need of detoxification, may be added to bath water to create an aromatherapy bathing experince or added to Eve Taylor ® Spa Body Moisturiser for enhanced nourishing benefits. Homecare application For massage: Pump desired amount into hand and apply to body. Massage using firm flowing circular movements. For bath: Add 4-6 pumps into bath water. Relax in bath for 5-10 minutes and follow with normal cleansing routine. After bath pat skin dry and follow with application of recommended Eve Taylor ® Spa Body Moisturiser. For moisturiser: Add desired amount to recommended Eve Taylor ® Spa Body Moisturiser, blend together and apply to body in smooth upward movements.

Regular: $40.00!
SAVE: $5.00
Your Price: $35.00

Free Shipping*

Uplifting Massage and Bath Blend     120 ml <!br> <!/span><!br>


This blend is an ideal choice for clients with general body fatigue due to over exertion of physical activity. Excellent for active, sporty athletic types. Helps boost circulation encouraging improved oxygenation and drainage of toxins which may accumulate with exercise. Skin type/condition: Suitable for those requiring an energising treatment, physically active people or athletic/sporting types. Key ingredients Essential Oils: The synergistic blend of Lemon, Juniper Berry, Peppermint, Cypress, Geranium and Cedarwood collectively increase circulation and elimination while toning the nerves. Function Provides an excellent massage medium with uplifting oils for those in need of invigoration, may be added to bath water to create an aromatherapy bathing experince or added to Eve Taylor ® Spa Body Moisturiser for enhanced nourishing benefits. Homecare application For massage: Pump desired amount into hand and apply to body. Massage using firm flowing circular movements. For bath: Add 4-6 pumps into bath water. Relax in bath for 5-10 minutes and follow with normal cleansing routine. After bath pat skin ry and follow with application of recommended Eve Taylor ® Spa Body For moisturiser: Add desired amount to recommended Eve Taylor ® Spa Body Moisturiser, blend together and apply to body in smooth upward movements.

$40.00
Free Shipping*

Wellbeing Massage and Bath Blend     120 ml <!br> <!/span><!br>


This blend is an ideal choice for clients with emotional stress or tension. Helping to soothe the nerves this blend rebalances and brings a sense of inner comfort, peace and positive energy to the mind and body. Skin type/condition: Suitable for those requiring a soothing effect to the senses, those in need of comfort and those who need to bring a more positive outlook to the mind and body. Key ingredients Essential Oils: The synergistic blend of Lavender, Lemon, Tea Tree, Clary Sage, Sandalwood and Neroli collectively re-balance the mind and improve emotional stress. Function Provides an excellent massage medium with comforting oils for those in need of a feeling of wellbeing, may be added to bath water to create an aromatherapy bathing experince or added to Eve Taylor ® Spa Body Moisturiser for enhanced nourishing benefits. Homecare application For massage: Pump desired amount into hand and apply to body. Massage using firm flowing circular movements. For bath: Add 4-6 pumps into bath water. Relax in bath for 5-10 minutes and follow with normal cleansing routine. After bath pat skin dry and follow with application of recommended Eve Taylor ® Spa Body For moisturiser: Add desired amount to recommended Eve Taylor ® Spa Body Moisturiser, blend together and apply to body in smooth upward movements.

$40.00
Free Shipping*

Exfoliating Body Mousse     180 gram <!br> <!/span><!br>


This creamy mousse exfoliant effectively sloughs away surface skin revealing a smoother, softer skin. Ideal for use in the spa or at home to maintain skin smoothness. Exfoliating Mousse gently stimulates circulation and encourages new cell regeneration. Enriched with natural essential oils to detoxify and tone, skin is left feeling revitalised, soft and prepared for the next treatment phase in the salon or spa treatment. Skin type/condition: Suitable for all skin types. (Avoid if using prescribed medication with exfoliating action). Key ingredients Poppy Seeds: Abrasive yet gentle and effective on the skin sloughing off surface skin cells to reveal a softer, smoother skin. Sea Salt: Physically removes dull drier cells revealing a more hydrated skin. Coconut based surfactants: Activated with water these cleansing agents foam up to deeply cleanse the skin leaving it feeling fresh and invigorated. Function This rich exfoliating mousse easily removes surface dull skin leaving it feeling soft, smooth and hydrated. May be used all over the body in the salon or spa setting or for spot treating body treatments. An ideal product to use in pedicures, especially where skin calluses may be found. Application Salon use: Gently massage into damp skin using circular movements. Concentrate on areas of thicker, drier skin such as elbows, knees and heels. For intensive exfoliation may be massaged into dry skin on any areas of concern. Remove with warm, moist mitts or steam towels customised with chosen Hydrolat. Alternatively direct client to shower if wet room facility is available. Home use: Gently massage into damp skin using circular motions. Concentrate on areas of drier skin such as elbows, knees and heels or areas experiencing ingrown hairs. Use 2-3 times a week for all over smoother skin. May be mixed with water and foamed up to create a polishing body cleanse for daily use in the shower.

$50.00
Free Shipping*

Moisturizing Body Butter     180 gram <!br> <!/span><!br>


Designed to restore optimal hydration to the most dehydrated and lipid-depleted areas of the body. This rich moisturising body butter is quickly absorbed into the skin and offers the botanical equivalent of silicone and natural moisturisers. Nourishing the epidermis eliminates skin stress to restore firmness and elasticity. Skin type/condition: Suitable for those experiencing ultra dry, lipid depleted skin, barrier imparement, eczema type skin, rough elbows/ knees or those requiring a rich-weight textured moisturiser. Key ingredients Sea Buckthorn: These amazing berries which are sourced from the Atlantic Coast are packed with very high levels of beta-carotene, Vitamin C,Vitamin E and flavenoids, as well as hosting an abundance of Vitamins B1, B2, K and P. Anti-inflammatory and protective properties also assist with tissue regeneration. Shea Butter: Protects the skin from both environmental and freeradical damage. Containing Vitamins A and E, it has demonstrated both antimicrobial and anti-inflammatory properties. Olive Butter: The softening, regenerative and antioxidant benefits and is a super nutrient rich moisturiser Coconut Butter: Contains high concentrations of all 8 essential amino acids and contains almost all known anti-oxidants: C, B1, B5 and B6, the minerals zinc, manganese, copper, amino acid methionine, beta-carotene and Vitamin E. Function Deeply nourishing and moisturising for ultra dry skins. Especially beneficial for elbows, knees and heels where skin may be thickened and under nourished. Application Salon use: Gently massage the required amount into each body area being treated using circular upward movements until fully absorbed. Homecare use: Apply as needed to areas of the body in need of hydration and moisturisation using circular flowing movements until absorbed. May be used to moisturise and nourish localised areas of rough dry skin such as the elbows and knees. Excellent for those with eczema type skin.

$66.00
Free Shipping*

Body Care No 12     1.69 fl. oz. <!br> <!/span><!br>


A very different formulation, it s effects vary, depending on the persons nature, it has a stimulating wide awake effect in general, ideal for the sporting fraternity

Regular: $66.00!
SAVE: $9.00
Your Price: $57.00

Free Shipping*

Body Oil No. 10     1.69 oz. <!br> <!/span><!br>


For bodys that are stressed and/or tens. Irritability, headache, insomnia, muscular stress and general inability to properly relax

Regular: $66.00!
SAVE: $9.00
Your Price: $57.00

Free Shipping*

Body Oil No. 11     1.69 oz. <!br> <!/span><!br>


Effective in aiding general elimination and preventing fluid retention and/or puffiness. (Do not use if pregnant or have kidney problems).

Regular: $66.00!
SAVE: $9.00
Your Price: $57.00

Free Shipping*

Corelle body wash/shower gel     250 ml <!br> <!/span><!br>


Balance & Clear A balancing aromatic and deep cleansing body wash to leave the skin super clean and moisturised. May be used in shower or bath. Skin type/condition: Suitable for all skin types and conditions, especially for those requiring a balanced effect. Key ingredients Coconut cleansing agents: offer soap free cleansing. Glycerin: softens and hydrates the skin. Essential Oils: Ylang Ylang, Lemongrass and Lavender provide a fresh aroma. Function A rich foaming pH balanced body wash to effectively cleanse the skin leaving it soft and supple. This easy to use, hygienic body cleanser with a balancing blend of essential oils is ideal to use in the bath or shower at the end of a long day to balance the senses and body. Homecare application Dispense into hands, foam with water and cleanse body. Alternatively, may be dispensed to dampened wash cloth, exfoliating cloth or sponge. After bath/shower, pat skin dry and follow with application of recommended Eve Taylor ® Spa Body Moisturiser. Note: For the continued effect of increased elimination, pair this product with either Body Care Product #11 0r #302.

$33.00
Free Shipping*

No 303 Replenishing     50 ml <!br> <!/span><!br>


his potent blend of essential oils aids in tissue regeneration. Whether the skin has been stressed through environmental or physical factors loss of elasticity and lack of texture may result. Formulated to help support the skin renewal cycle, this serum replenishes and re-builds the skin encouraging the formation of healthy cells. Skin type/condition: Suitable for those experiencing stressed or weakened skin, stretch marks, recent scarring, hyper-pigmentation or loss of elasticity. Replenishing Body Serum (Specifics. 303) may also be used on the face. Key ingredients Essential Oils: T he synergistic blend of Lavender, Rosewood, Rosemary, Geranium, Clary Sage, Galbanum and Patchouli collectively stimulate cell regeneration that leads to new, healthy skin cells. Function To regenerate and strengthen weakened skin and tissues.added 3/8/2021

$53.00
Free Shipping*

Restelle body wash/shower gel     250 ml <!br> <!/span><!br>


A cleansing stress relief body wash to leave the skin super clean, moisturised and body relaxed Skin type/condition: All skin types. Key ingredients: Coconut cleansing agents: offer soap free cleansing. Glycerin: softens and hydrates the skin Essential oils: Mandarin, Petigrain and Lavender provide a relaxing aroma. Benefits: The deep aroma of natural essential oils assist with relaxation and easing of daily tension. This hygienic dispensing body wash ensures effective and thorough cleansing. Soap free to leave skin feeling soft and moisturised. Homecare use: Dispense into hands, foam with water and cleanse body. Alternatively, may be dispensed to dampened wash cloth or exfoliating cloth. May be added to bath for a relaxing soak.

Regular: $33.00!
SAVE: $7.00
Your Price: $26.00

Free Shipping*

Specific 301 Anti Stress     1.69 oz. <!br> <!/span><!br>


Ideal for those who always feel tense and experience aching muscles and joints. Soothes areas of sensitivity.

$52.00
Free Shipping*

Astrelle body wash shower gel     250 ml <!br> <!/span><!br>


A soothing aromatic and deep cleansing body wash to leave the skin super clean and moisturised. May be used in shower or bath. Skin type/condition: Suitable for all skin types and conditions, especially for those requiring a soothing effect. Key ingredients Essential Oils: a subtle aroma with Lavender, Geranium, Clary Sage and Galbanum to ease away stresses of the day. Cocamides: provides a soap free cleansing action to clean the skin without removing precious oils. Aloe Vera: soothes and hydrates the skin. Function A rich foaming pH balanced body wash to effectively cleanse the skin leaving it soft and supple. This easy to use, hygienic body cleanser with a soothing blend of essential oils is ideal to use in the bath or shower at the end of a long day to calm the senses.

$33.00
Free Shipping*

Balancing Cleanser for Combination Skin     6.8 fl oz <!br> <!/span><!br>


Harmonising benefits of Lavender and Jasmin soothe and balance skin texture. Basil, Rosewood and Vitamin rich Avocado help improve resistance to bacterial activity. Extracts of Cucumber, Lettuce gently soften and cleanse.

Regular: $52.00!
SAVE: $4.00
Your Price: $48.00


Citrelle Body wash/Shower Gel     250 ml <!br> <!/span><!br>


Refresh & Invigorate An invigorating deep cleansing body wash to leave the skin super clean and moisturised. May be used in shower or bath. Skin type/condition: Suitable for all skin types and conditions, especially for those requiring an invigorated, refreshed effect. Key ingredients Coconut cleansing agents: offer soap free cleansing. Lime and Petitgrain: invigorate the senses. Panthenol: moisturisess while softening and smoothing the skin. Function A rich foaming pH balanced body wash to effectively cleanse the skin leaving it soft and supple. This easy to use, hygienic body cleanser with an invigorating aroma and blend of essential oils is ideal for the whole family to use leaving them refreshed for the day ahead. Homecare application Dispense into hands, foam with water and cleanse body. Alternatively, may be dispensed to dampened wash cloth, exfoliating cloth or sponge. After bath/shower, pat skin dry and follow with application of recommended Eve Taylor ® Spa Body Moisturiser.

$33.00
Free Shipping*

Dynamic Resurfacing Cleanser     250 ml <!br> <!/span><!br>


Description: Exfoliating Lactic Acid complex intensively resurfaces the skin whilst offering a thorough cleanse. Brightens uneven skin tone and illuminates hyperpigmentation. Increases epidermal cell turnover to defy the signs of ageing. Promotes superior skin softness with continued use. Soap free, mildly foaming formulation cleanses without drying the skin or breaking down essential lipids. Directions: After pre- cleansing the skin with Clear Cleanse, dispense into dampened hands, add a small amount of tepid water and mix into a creamy foam consistency. Spread over décolleté, neck and face and perform cleansing routine. Additional water may be added for increased spreadability or to reactivate if necessary. Mild tingling may be experienced. For enhanced cleansing benefits use dampened Facial Cleansing Brush in light upward rotating movements. Remove thoroughly from skin using sponges, hot towels or mitts. Salon application: 2 pumps (3ml) foamed with water Key ingredients: Lactic Acid – this multi-action super ingredient resurfaces and exfoliates the skin increases epidermal hydration, fights the catalysts of hyper-pigmentation and brightens uneven skin tone. Argan Oil – rich in Vitamin E, essential fatty acids and anti-oxidants to ensure the skin remains supple whilst neutralising damaging free radicals. Cotton Seed Oil – rich in Omega-6 and Omega-3 fatty acids it conditions the epidermis and imparts skin softness. Squalene – a powerful humectant which boosts hydration levels in the skin and combats moisture depletion. Geranium – a versatile essential oil which improves the skin and uplifts the senses. Full Ingredients: Aqua, Coco-Glucoside, Lactic Acid, Glycerin, Sodium Cocoyl Glycinate, Polyacrylate Crosspolymer-6, Sucrose Cocoate, Argania Spinosa Kernel Oil, Gossypium Herbaceum Seed Oil, Macadamia Ternifolia Seed Oil, Cocamidopropyl Betaine, Glycolic Acid, Pelargonium Roseum Leaf Oil, Olus Oil, Glycine Soja Oil, Malic Acid, Tartaric Acid, Tocopherol, Beta-Sitosterol, Citrus Limon Peel Extract, Rosa Multiflora Fruit Extract, Pyrus Malus Juice, Saccharum Officinarum Extract, Vaccinium Myrtillus Leaf Extract, Vitis Vinifera Leaf Extract, Squalene, Phenoxyethanol, Citric Acid, Propylene Glycol, Sodium Hydroxide, Butylene Glycol, Sodium Chloride, Ethylhexylglycerin, Sodium Phytate, t-Butyl Alcohol, Citronellol, Geraniol, Linalool.

$60.00

Purifying Wash for Oily Skin     6.8 fl oz <!br> <!/span><!br>


Coconut based cleansers to lift daily impurities. Anti-bacterial and antiseptic qualities of Teatree and the benefits of Lemongrass purify pores. Sandalwood and Lavender help maintain skins natural pH level.

$48.00

Replenishing Neck Cream     150 ml <!br> <!/span><!br>


This creamy moisturising cream nourishes and hydrates the delicate neck area with vitamin rich oils and replenishing essential oils to strengthen the skins barrier and offer a more healthy epidermis. Description: Creamy formulation absorbs easily into the skin. Provides nourishment and hydration to soften and nurture the delicate neck area. Replenishing essential oils offer strengthening actions to defend against the signs of ageing Key ingredients: Frankincense Lavender, Rosewood, Rosemary, Clary Sage, Geranium and Patchouli – a synergistic blend of essential oils help strengthen the skin and offer revitalising properties to re-energise sluggish mature skin. Avocado – rich in Vitamins A, D & E imparts anti-oxidant protection which nourishing the epidermis. Sodium PCA – easily accepted by the skin, binds moisture increasing hydration levels. Comfrey – extract is rich in allantoin to soothe, smooth and heal irritated skins. Sweet Almond Oil – abundant in fatty acids to nourish and protect the skin and defend against environmental assault. Glycerine – a potent humectant which binds moisture to the skin. The natural affinity with both water and oil allows easy absorption over lipid-based substances. Full Ingredients: Aqua, (Water), Cetearyl Ethylhexanoate, Stearic Acid, Prunus Amygdalus Dulcis (Sweet Almond) Oil, Glyceryl Stearate Propylene Glycol, Cera Alba (Bees wax), Cetearyl Alcohol, Symphytum Officinale Leaf extract (Comfrey), Lavandula Angustifolia Flower Extract (Lavender), Chamomile Recutita Flower Extract, Panax Ginseng (Ginseng), Lavandula Angustifolia (Lavender) Oil, Aniba Rosaeodora (Rosewood) Wood Oil, Rosmarinus Officinalis (Rosemary) Leaf Oil, Salvia Sclarea (Clary Sage) Oil , Pelargonium Graveolens (Geranium) Flower Oil, Boswellia Carterii (Frankincence) Gum Oil, Pogostemon Cablin (Patchouli) Oil, Persea Gratissima (Avocado) Oil, Triticum Vulgare (Wheatgerm) Germ Oil, Glycyrrhiza root extract, Triethanolamine, Carbomer, Sodium PCA, Tocopheryl Acetate, Disodium EDTA, Decylene Glycol, Caprylyl Glycol, Citric acid, Sodium benzoate, Potassium sorbate, Phenoxyethanol, Linalool, Geraniol, Limonene, Eugenol. Directions: After toning and moisturising, apply to the neck and décolleté area using light fingertip pressure. For maximum skin protection continue with sunscreen protection such as Moisturising Day Cream SPF30 during daylight hours.

$56.00

Soothing Cleanser for Normal to Dry skin     6.8 fl oz <!br> <!/span><!br>


Rich in skin smoothing Amino acids. Extracts of Cucumber and Lettuce cool and refresh, whilst antiseptic and pore clearing Linden blossom gently lifts away daily debris.

Regular: $52.00!
SAVE: $4.00
Your Price: $48.00

Free Shipping*

Ultra Soothing Cleanser     50 ml <!br> - Other sizes/options. <!/span><!br>


A rich, creamy cleanser with soothing Oatmeal and conditioning Camellia Oil. Gently cleanses, calms and nourishes ultra dry, sensitive or irritated skin without disturbing the skins delicate barrier. Skin type/condition: Ultra dry, sensitive, hypersensitive, dehydrated, reddened, or irritated skin. Skin experiencing eczema, psoriasis or rosacea. Features & benefits: Gently but thoroughly cleanses dry, sensitive irritated skin without disturbing the delicate barrier. Deeply nourishing, skin is left feeling soft, supple and hydrated. Anti-inflammatory formulation helps to reduce redness, itching and irritation whilst strengthening the skins barrier function. Key ingredients: Oatmeal: rich in Saponins, Cholesterols and Avenanthremides, Oatmeal offers gentle cleansing properties whilst strengthening the skins barrier function. Its highly anti-inflammatory benefits reduce irritation, itching and redness. Camellia/Green Tea: highly anti-inflammatory benefits reduce redness and inflammation whilst antioxidants protect the skin from free radical damage. Sunflower Oil: abundant in Linoleic Acid, Sunflower Oil deeply nourishes, calms irritation and treats fatty acid deficiency in the skin. Sorbitol: a potent sugar based humectant which binds essential moisture to the stratum corneum cells and prevents future moisture loss.

$32.00
Free Shipping*

Ultra Soothing Cleanser     200 ml <!br> - Other sizes/options. <!/span><!br>


A rich, creamy cleanser with soothing Oatmeal and conditioning Camellia Oil. Gently cleanses, calms and nourishes ultra dry, sensitive or irritated skin without disturbing the skins delicate barrier. Skin type/condition: Ultra dry, sensitive, hypersensitive, dehydrated, reddened, or irritated skin. Skin experiencing eczema, psoriasis or rosacea. Features & benefits: Gently but thoroughly cleanses dry, sensitive irritated skin without disturbing the delicate barrier. Deeply nourishing, skin is left feeling soft, supple and hydrated. Anti-inflammatory formulation helps to reduce redness, itching and irritation whilst strengthening the skins barrier function. Key ingredients: Oatmeal: rich in Saponins, Cholesterols and Avenanthremides, Oatmeal offers gentle cleansing properties whilst strengthening the skins barrier function. Its highly anti-inflammatory benefits reduce irritation, itching and redness. Camellia/Green Tea: highly anti-inflammatory benefits reduce redness and inflammation whilst antioxidants protect the skin from free radical damage. Sunflower Oil: abundant in Linoleic Acid, Sunflower Oil deeply nourishes, calms irritation and treats fatty acid deficiency in the skin. Sorbitol: a potent sugar based humectant which binds essential moisture to the stratum corneum cells and prevents future moisture loss.

$51.00
Free Shipping*

Refining Eye Gel For All Skin Types     0.68 oz <!br> <!/span><!br> This item is BACKORDERED from the manufacturer.
We will hold your order until supply is delivered



Healing Aloe vera and anti-inflammatory qualities of seaweed extract cool and soothe tired eyes. Protein and Mineral rich Marine Algae provide a protective coat on the skin, to reduce moisture loss through evaporation.

$27.00
Free Shipping*
Manufacture BackOrdered
Face Oil No. 1 Smoothing Sensitive Skin     1.02 oz. <!br> <!/span><!br>


For skins that are of a congested nature and/or affected by smoking, hayfever, allergies or poor air quality.

Regular: $60.00!
SAVE: $2.00
Your Price: $58.00

Free Shipping*

Face Oil No. 2 Delicate Skin     1.02 oz. <!br> <!/span><!br>


For skins that are of a cuperose complexion. Delicate thin skin and/or broken capillaries.

Regular: $60.00!
SAVE: $2.00
Your Price: $58.00

Free Shipping*

Face Oil No. 3 Problem Skin     1.02 oz. <!br> <!/span><!br>


For skins of an Oily or congested nature. Prone to breakouts or blemishes. Ideal for teenage skins.

Regular: $60.00!
SAVE: $2.00
Your Price: $58.00

Free Shipping*

Face Oil No. 4 Normal Skin     1.02 oz. <!br> <!/span><!br>


For skins free from blemishes or breakouts. Helps keep skin healthy and stable.

Regular: $60.00!
SAVE: $2.00
Your Price: $58.00

Free Shipping*

Face Oil No. 5 Revitalising Mature Skin     1 oz. <!br> <!/span><!br>


Recommended for dry / dehydrated, mature skins which are unable to absorb nourishing creams or heavier products. Environmental damFor the Mature Skin. Revive and Firm. age, poor life care, natural ageing process, underlying muscle stress or tension have perhapes taken their toll. Where skin becomes thinner, integrity loss occurs, sagging skin, suppleness and firmness begin to alter. Product does not contain Lanolin, Mineral Oil, Artificial fragrance, or SD alcohol.

Regular: $60.00!
SAVE: $2.00
Your Price: $58.00

Free Shipping*

Balancing Masque for Combination Skin     1.7 fl oz <!br> <!/span><!br>


Aloe Vera and Comfrey to improve skin integrity. Smectite clay draws impurities and toxins encouraging a more balanced monotone type complexion.

$29.00
Free Shipping*

Purifying Masque for Oily Skin     1.7 fl oz <!br> <!/span><!br>


A unique combination of Henna, and mineral rich Smectite clay to cleanes impurities and toxins. Carrot oil and Evening Primrose rehydrate. Honey and Wheat based silicones seal in moisture.

Regular: $35.00!
SAVE: $5.00
Your Price: $30.00

Free Shipping*

Soothing Masque for Normal to Dry Skin     1.7 fl oz <!br> <!/span><!br>


Oxygenate and Nourish. Non drying gel masque benefits from healing Aloe vera and soothing anti-inflammatory qualities of Camellia (green tea). Softening, Nourishing and Oxygenating.

$27.00
Free Shipping*

Balancing Moisturiser Cream for Combination Skin     3.4 fl oz <!br> <!/span><!br>


Ideal for skins that require a normalising Protective Quality. Hydration to drier areas without leaving a greasy, shiny feel to the entire face. A toning quality of Basil and the antiseptic balancing quality of Rosewood.

$34.00
Free Shipping*

Balancing Moisturiser Lotion for Combination Skin     6.8 fl oz <!br> <!/span><!br>


A light, readily absorbed moisturiser that will hydrate the drier areas without leaving an oily feel to the entire face. Essential Oils of Geranium and Basil encourage proper oxygenation.

Regular: $48.00!
SAVE: $2.00
Your Price: $46.00

Free Shipping*

Purifying Moisturiser Cream for Oily Skin     3.4 fl oz <!br> <!/span><!br>


Ideal for skins that require hydration plus purifying anti-bacterial support. The penetrating and toning benefits Lemongrass and the anti-seborrhoeic qualities of Ylang Ylang combine to restore and rebalance.

$31.60
Free Shipping*

Purifying Moisturiser for Oily Skin     6.8 fl oz <!br> <!/span><!br>


A light moisturising lotion to rehydrate skin and help discourage bacterial activity. Purifying qualities of Lemongrass and Cedarwood encourage improved oxygenation without stimulation.

$46.00
Free Shipping*

Soothing Moisturiser Cream for Normal to Dry Skin     3.4 oz. <!br> <!/span><!br>


Ideal for skins that require a little extra. Palm oil & Chamomile plus Vit E for extra skin protection. Avocado and Wheatgerm aid skin suppleness and texture.

$36.00
Free Shipping*

Soothing Moisturiser Lotion for Normal to Dry Skin     6.8 fl oz <!br> <!/span><!br>


A light moisturising lotion rich in natural Skin soothing qualities. Comfrey, a natural source of allantoin to soothe and heal. Natural essential oils Lavender and Chamomile to improve skin protection.

$46.00
Free Shipping*

Ultra Soothing Cream     50 ml <!br> - Other sizes/options. <!/span><!br>


Anti-inflammatory plant extracts of Borage Seed and Comfrey calm reactive skin while Sunflower Oil improves fatty acid deficiency, collectively providing protection to help restore and strengthen skins barrier function. Skin type/condition: Ultra dry, sensitive, hypersensitive, dehydrated or irritated skin. Skin experiencing eczema, psoriasis, rosacea or compromised barrier function. Features & benefits: Powerful botanicals help repair skins with an impaired epidermal barrier function. Anti-inflammatory plant oils reduce redness and skin irritation. Essential Oil free formulation creates the perfect moisturiser for even the most hyper-sensitive skins. Key ingredients: Borage Seed Oil: rich in Gamma Linoleic Acid (GLA), these fatty acids reduce redness and sensitivity in the skin and strengthen the barrier function by helping to seal the gaps which irritants can penetrate. Comfrey: imparts powerful anti-inflammatory and healing benefits to help soothe reactive skin. Dimethicone: emollient properties help decrease itching on the skins surface whilst smoothing, softening and increasing hydration. Sunflower Oil: abundant in Linoleic Acid, Sunflower Oil deeply nourishes, calms irritation and treats fatty acid deficiency in the skin. Glycerine: a potent humectant which effectively binds moisture to the skin.

$28.00
Free Shipping*

Ultra Soothing Cream     100 ml <!br> - Other sizes/options. <!/span><!br>


Anti-inflammatory plant extracts of Borage Seed and Comfrey calm reactive skin while Sunflower Oil improves fatty acid deficiency, collectively providing protection to help restore and strengthen skins barrier function. Skin type/condition: Ultra dry, sensitive, hypersensitive, dehydrated or irritated skin. Skin experiencing eczema, psoriasis, rosacea or compromised barrier function. Features & benefits: Powerful botanicals help repair skins with an impaired epidermal barrier function. Anti-inflammatory plant oils reduce redness and skin irritation. Essential Oil free formulation creates the perfect moisturiser for even the most hyper-sensitive skins. Key ingredients: Borage Seed Oil: rich in Gamma Linoleic Acid (GLA), these fatty acids reduce redness and sensitivity in the skin and strengthen the barrier function by helping to seal the gaps which irritants can penetrate. Comfrey: imparts powerful anti-inflammatory and healing benefits to help soothe reactive skin. Dimethicone: emollient properties help decrease itching on the skins surface whilst smoothing, softening and increasing hydration. Sunflower Oil: abundant in Linoleic Acid, Sunflower Oil deeply nourishes, calms irritation and treats fatty acid deficiency in the skin. Glycerine: a potent humectant which effectively binds moisture to the skin.

$43.00
Free Shipping*

Exfoliating Scrub for All Skin Types     3.4 fl. oz. <!br> <!/span><!br>


Natural Bamboo Beads gently slough away impurities. Invigorating dull lifeless skin and revitalizing circulation. The benefits of Soya leave the skin feeling soft and more refined.

$34.00
Free Shipping*

Illuminating Serum     30 ml <!br> <!/span><!br>


This lightweight textured serum addresses changes to the complexion as a result of sun exposure, hormonal hyperpigmentation, post breakout marks and other uneven skin tone related concerns. Description: Inhibits the enzymatic reaction which leads to over production of melanin and hyperpigmented areas. Illuminates existing hyperpigmentation and evens out skin tone for a monotone complexion. Calms redness and reduces inflammation. Hydrates and softens the skin with powerful humectants. Key ingredients: Vitamin C rich botanicals – brighten the skin and offers anti-oxidant properties to defend against further ultra violet light damage and melanocyte stimulation. Speedwell Herb Extract – brightens and illuminates the skin promoting a monotone complexion. Mulberry- extracts inhibit the tyrosinase enzyme necessary for pigment formation in the melanocyte helping to reduce skin discolouration. Skullcap extract and Balm Mint – reduce skin redness and inflammation which can lead to post inflammatory pigmentation. Full Ingredients: Water, Chondrus Crispus Extract, Sodium Hyaluronate, Saxifraga Sarmentosa Extract, Morus Alba Root Extract, Scutellaria Baicalensis Root Extract, Malva Sylvestris Extract, Mentha Piperita Leaf Extract, Primula Veris Extract, Alchemilla Vulgaris Extract, Veronica Officinalis Extract, Melissa Officinalis Leaf Extract, Achillea Millefolium Extract,Tartaric Acid, Alcohol, Propylene Glycol, Phenoxyethanol, Ethylhexylglycerin, Citric Acid, Disodium EDTA, Sodium Hydroxide. Directions: Gently smooth illuminating Serum over face and neck and décolleté, continue to spritz suitable toner to skin, follow with application of C+Bright Priming Moisturiser SPF30. (Cleanse, treat with serum, tone and moisturise).

$87.00

Balancing Toner for Combination Skin     6.8 fl oz <!br> <!/span><!br>


Clarify skin texture with a natural blend of Rose Otto to firm and tone tissue. Healing quality of Aloe vera to soften and Neroli to soothe irritation and maintain balance.

$40.00
Free Shipping*

Purifying Toner for Oily Skin     6.8 fl oz <!br> <!/span><!br>


A mildy astringent action. A natural hydrosol of lavender provides and effective anti-inflammatory and antiseptic quality, ideal for purification without compromising natural pH of the skin. Soothing Aloe vera improves skin softening.

Regular: $46.00!
SAVE: $2.00
Your Price: $44.00

Free Shipping*

Soothing Toner for Normal to Dry Skin     6.8 fl oz <!br> <!/span><!br>


Cool and soothe the skin with natural Lavender and Chamomile hydrosols. Anti-oxydent quality ensures surface mounted free radical scavengers are eleminated. Healing Aloe Vera leaves Skin feeling moist and fresh.

Regular: $48.00!
SAVE: $2.00
Your Price: $46.00

Free Shipping*